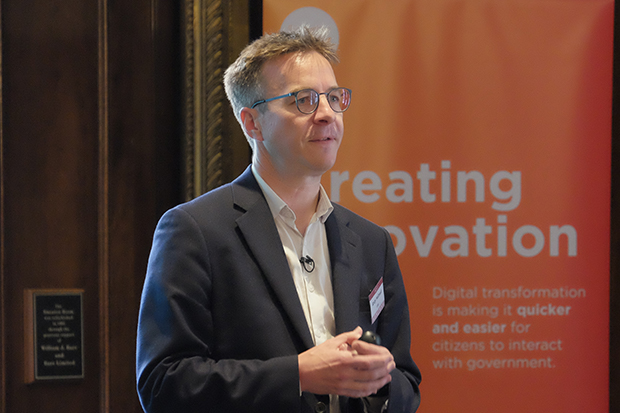 In my previous blog in July, I shared the insights we have gained in shared services since January 2018. Today, I want to share our new, refreshed Strategy. While technology, service models, the commercial environment and user expectations will continue to change rapidly over the next decade, our vision and ambition to innovate in transforming shared services in government will remain fundamentally the same. 
Our Strategy refresh reflects the value we gain from the great collaboration we are achieving by working in partnership with departments, as well as reflecting our challenge of achieving this across the whole central government sector. We need to drive performance improvement and deliver financial benefits as an essential precondition to realising our longer-term ambition.
That ambition is, above all, to create a future where civil servants' ability to support government priorities and deliver services to the citizen is enhanced by the shared services they use.
This means a move from services that can sometimes feel difficult to use, fragmented and inconsistent, to a seamless, secure and intuitive user experience.  We will achieve this by making the leap from reactive shared services delivered through the desktop and phone calls to mobile, accessible, intelligent, automated shared services that increasingly anticipate what the user needs.
Making this a reality will ensure current and prospective public servants will have a consistent and friction-free experience - from looking for and applying for a job, going through the recruitment process, undergoing security vetting, learning and developing, being paid and moving roles and through to eventually leaving and starting to receive their pension.
If we get this right then we will unleash very significant financial benefits for the taxpayer too - with a close to real-time understanding of the resource position, in terms of both finance and human resources.
What we will do next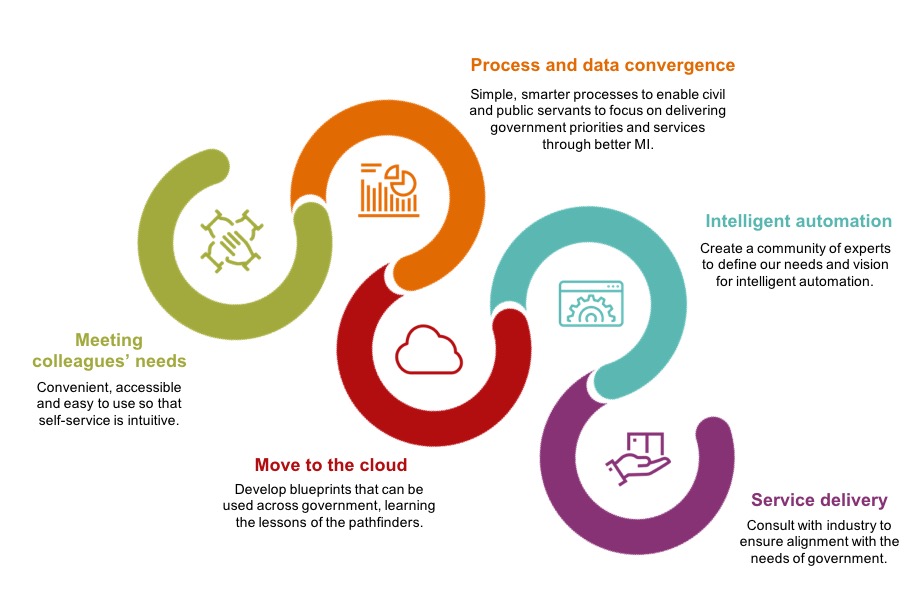 Looking ahead, I want to emphasise three areas, all of which are in support of improving the user and business experience:
The move to cloud-based enterprise resource planning (ERP) system is the essential precondition for other aspects of the Strategy. We need to sustain momentum here. Our Strategy highlights our preferred approaches and how we should be working with suppliers and implementation partners.
We have made good progress on data and process convergence. But it is more complicated than we originally thought. The aim is not necessarily 100% identical processes across government, rather we need to converge sufficiently across various dimensions: policy, process, data, systems architecture and implementation approach, in order to realise the benefits we seek.
Intelligent automation is not the future, it is the reality today. Cloud implementations across government are taking automation opportunities or planning to do so. Again, though, this is multi-dimensional - we should look to automate elements of the user experience, end-to-end process, and business intelligence provision. Robotic process automation, though useful, is generally seen as a short-term sticking plaster rather than a driver of long-term value. Our emphasis is on intelligent automation, working with technology rather than substituting people with robots.
Creating and sharing innovation
The key point is that none of these are ends in themselves. They are all means of achieving our more fundamental strategic objectives – value and efficiency achieved by providing users with an intuitive, accessible, mobile, modern experience that enables them to focus on public service delivery - and providing the business with the intelligence it needs to make accurate, timely, resource prioritisation and allocation decisions. 
Right now, our work is attracting the attention of the UK's devolved administrations and other countries that are seeking to implement a similar framework.  This demonstrates the value in what we are doing and its scalability. While our focus now remains working across central government, to realise the ambitions of the strategy, we continue to look to work with and learn from the wider public sector.
This would be a step change in the way we manage the delivery of government priorities and public services. It is still a future vision, but one achievable within 10 years and towards which progress is already being made. It is right to set this high level of ambition, which we will achieve by working across government and with commercial partners.
There's a long way to go, but we've achieved and learned a lot in the last 20 months or so, and the Strategy refresh is a welcome opportunity to set that out.