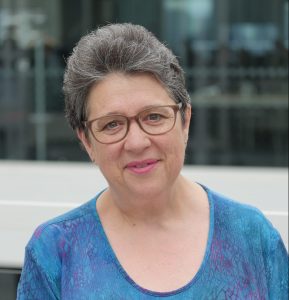 Today more than most days I think about genealogy, values, keys and genocide. 
I think about my mum. She was a daughter, a sister, a wife, a mother, a grandmother. I miss her every day but by and large she had a really good life.   She was born in 1929 - the same year as Anne Frank.
My mum was born in London - a Jew of Russian heritage - and lived to the age of 88. Anne Frank was a daughter and a sister but she did not reach her 16th birthday.  If my mum had been born in an occupied Europe, like Anne Frank, it is probable that neither I nor my children would exist.  
This year is the 75th anniversary of the liberation of the Jewish concentration camps. Today more than most days, I think about the survivors of all genocide and the horrors they experienced. I think about the liberators who have been scarred by the disturbing things they saw. Today, I think of those who lost their lives at the hands of intolerance and hatred.
When we forget our values, we surrender our humanity.  So today, as we mark National Holocaust Memorial Day:
The hope that stays with me is how, within society and within the workplace, values are put front and centre. In the Cabinet Office, 2020 is the Year of Inclusion. I truly value the emphasis that is put on respect, trust and collaboration by my employer and my co-workers.  I am thankful when people challenge others who bully individuals, or belittle a group of people, or make personal insults about another team. We are all individuals, we all get things right and we all get things wrong. As Eli Weisel, writer, professor, political activits, Nobel Laureate and Holocaust survivor said "to remain silent and indifferent is the greatest sin of all"
The lived experiences that stay with me are from the 2018 Cabinet Office Memorial Day event, which I had the privilege to organise. We heard the very moving testimony of Harry Spiro who had survived the Jewish ghetto, the concentration camps and the death march. We also heard from two students who had been learning about the Holocaust and had been to see the camp at Auschwitz.  One of the students told of how shocked she was to see the mountain of door keys; how saddened she was by the image of people locking their doors thinking they would return home, when we know they were never to return from the concentration camp.
The words that stay with me are from Lotte Kramer 'On shutting the door', which I include here with my sincere thanks to the Kramer family. 
ON SHUTTING THE DOOR
Often, when I leave home,
I think of you,
How you'd have shut the door
That last time
They fetched you out at dawn.
What fears would prophesy, 
What intimations
Could foretell the terrors
of those plains,
The herding into ash?
Or maybe, you looked round
As if before
A holiday, leaving
No trace of dust,
No crumbs for pests, no moths
In cupboard, carpets;
Covered the chairs,
The settee from the glare
Of light and sun, 
Turned off the water, gas...
Today more than most days, there will be heartfelt tears, there will be thankful joy and there will be conversations that bring us closer together.
'On Shutting the Door' by Lotte Kramer
First published in Great Britain in 1987 by Hippopotamus Press in The Shoemaker's Wife and Other Poems by Lotte Kramer. Copyright © 1987 by Lotte Kramer